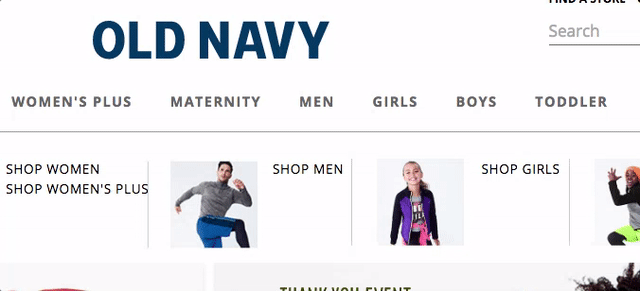 Callie Gorgol
Gorgol, a 26-year-old mom who lives in Frederick, Maryland, typically shops in bulk at Old Navy for her six-year-old daughter and two-year-old son in the fall and the summer without any problem.
As she slid her cursor from the toddler to the girls section on the site, she noticed that two categories dropped down — slim and plus.
Old Navy / Via oldnavy.gap.com
She clicked on "plus" out of curiosity to discover that Old Navy considers girls' pants over size 8 to be "plus" size while boys are considered "husky" if they are over a size 10.
Gorgol, who also has a niece who is overweight due to medication she must take, was livid. She said it is "ridiculous" and unacceptable that "anyone would think it's ok to put 'plus' and 'husky' names to kids' clothing."
"I would never want them to think, 'Oh well, since I have to go in the plus section, I must be bigger I must be different than someone who is not shopping in plus,'" she said. "I want my children to grow up thinking they love their body. Everybody's body is different. That's the way its supposed to be."
Gap Inc., which owns the Old Navy brand, did not respond to a request for comment.
There's plenty of debtate among plus-size models, and other critics of "plus size" like Amy Schumer, about whether the term is appropriate to describe adult bodies. But very little of the conversation has centered around the use of these labels for children.
@alessandragl / Via instagram.com
"Children who are overweight or obese are more vulnerable to body image and body esteem issues as well as psychological concerns," Vinita Menon, clinical psychologist and psychology instructor at Northern Illinois University, told BuzzFeed News. "Labeling of clothing that may be perceived as judgmental or pejorative has the potential to contribute to these concerns. The long-term focus should be multi-faceted — a focus on health and well-being along with supportive emotional coping strategies."
A recent study published in the Journal of Eating & Weight Disorders was the latest research to highlight the fragility of children's mental health when it comes to early discussions about weight and size.
The study, which surveyed over 500 young women, found that even well-intended comments from parents about their daughter's weight may lead to a negative body image and unhealthy dieting behaviors in the long-term.
Egypt "Ify" Ufele, an 11-year-old fashion designer and anti-bullying activist, told BuzzFeed News she started ChubiiLine in 2015 after being bullied over her weight "to help other children to feel better about themselves."
Instagram: @bullychasers
She prefers to describe herself as a "curvy girl" and believes that "plus size" is not harmful to use in children's clothing.
"It doesn't really bother me," said Ufele, whose line carries sizes 2T through 20. "'Curvy' …read more
Read more here: These Moms Are Angry That Old Navy And Gap Call Kids "Husky" And "Plus" Size
Category: SPY, DIA, IWM, QQQ