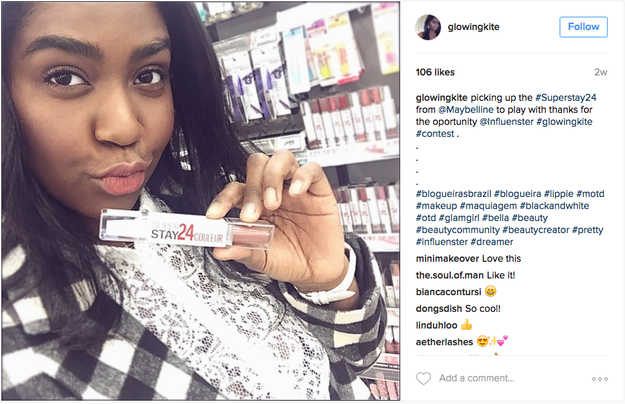 @glowingkite / Via instagram.com
The push to make social media celebrities and "influencers" more honest about who is paying them to post has been complicated by the rise of a new category of Instagram promoter: the so-called microinfluencer, people with as little as ten followers who are being paid by brands just like top-tier stars.
Advertising businesses like Influenster and BzzAgent allow anyone with a social media account to sign up and receive free products for review, from brands like Maybelline, BITE beauty, Kleenex, and International Delight. Their social media posts appear with hashtags like #gotitfree or #gotacoupon, or with a note that the product was received "complimentary." Often there is no indication they got it for free.
In a letter on Wednesday, consumer advocacy groups told the Federal Trade Commission these posts don't meet federal disclosure guidelines, which recommend clearly using #advertisement or #ad in posts.
"One of our biggest concerns is that this is becoming normalized and so seamlessly integrated into our everyday interactions with social media," Kristen Strader, the commercial alert campaign coordinator for advocacy group Public Citizen, told BuzzFeed News. "Of course this is what advertisers want, but it is unfair to the consumer, especially young consumers who are growing up seeing paid endorsements on social media without understanding that those posts are actually advertisements."
@sjbutterfie / Via instagram.com
Public Citizen found 50 examples of undisclosed influencer posts on Instagram between Sept. 1 and Nov. 14, a handful of which belonged to users with fewer than 1,500 followers, according to its letter to the FTC.
One review from BzzAgent member @sjbutterfie, who describes herself as a blogger, influencer and product reviewer, writes, "I just love the new L'Oréal Pure Clay Masks I received from BzzAgent."
She goes on to rave about how the mask left her skin "so soft" that she can now put makeup on "effortlessly." She includes the hashtags #gotitfee #bzzagent #bzz #loreal and #pureclaymasks. But no tag mentions it is an ad.
Another post for Influenster by @kscitysweetheart found by BuzzFeed News shows a picture of an E.L.F. lipstick along with a five-star review. The caption on the post is simply the product name and five hashtags including #influenster and #voxbox.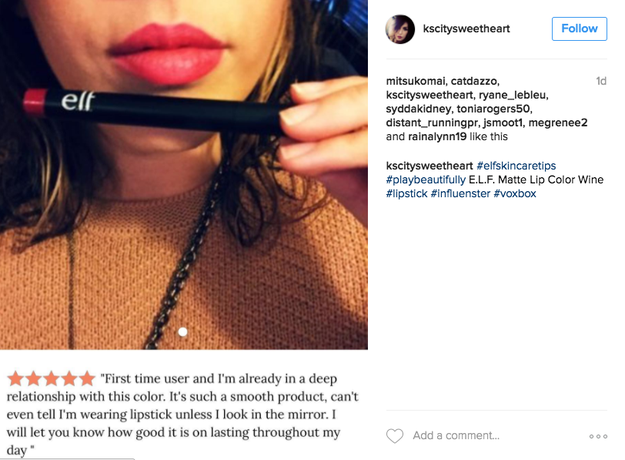 @kscitysweetheart / Via instagram.com
The FTC has not explicitly told brands and influencers how they need to disclose their financial relationships, Bonnie Patten, an attorney and executive director of the non-profit group Truth In Advertising, told BuzzFeed News.
But it does require a "clear and conspicuous" disclosure when an influencer is paid or given a product for free "with the expectation that you'll promote or discuss the advertiser's products," according to its site.
"You can't hide the disclosure in a show more description in a YouTube page," said Patten. "You can't hide the hashtag #ad or #igothisforfree in the midst of 22 other hashtags. Basically the law says …read more
Read more here: Instagram Advertisers Switch From Celebrities To "Microinfluencers"
Category: BKS