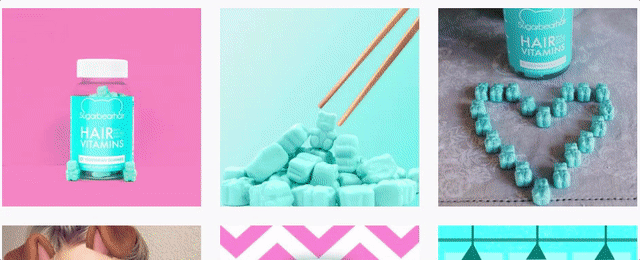 But the gummy-bear vitamins still earned an overall A-grade for having the amount of vitamins and minerals a person needs to compensate for nutrient deficiencies that affect hair growth, said Labdoor.
Labdoor, a San Francisco-based lab that tests and grades dietary supplements, found that the listed quantities of 7 of the 11 nutrients listed on the SugarBearHair were inaccurate by 20% or more. It also found the vitamins had "relatively high" levels of lead compared with other hair supplements tested by the lab.
"We're definitely striving for more accurate label claims," said Dan Mark, research director for Labdoor, to BuzzFeed News. "Any inaccuracies to us are penalized."
While still a relatively young company — it registered as a Florida-based business in May 2015 — SugarBearHair and its little blue gummy vitamins have become well known to social media users, thanks in large part to promotion on Instagram by celebrities like Kylie Jenner, Kim Kardashian, and Khloe Kardashian.
"These chewable gummy vitamins are delicious and a favorite part of my hair care routine"
Instagram: @kimkardashian
SugarBearHair, which manufactures the vitamin in California, told BuzzFeed News that the company has "well over 100 lab test results performed by accredited independent laboratories" that show the product is "well within" Food and Drug Administration and California guidelines.
"We are committed to manufacturing safe and effective products," said a representative for the company. "The lab testing shows our vitamin's safety and quality is above and beyond industry standards. The amount of each vitamin more than meets the FDA's CFR Part 111's dosage requirements to ensure SugarBearHair's label accuracy."
Labdoor's testing found the bears contain 70% more biotin than claimed on the label and about 75% the amount of vitamins B5 and B6, which have been associated with hair growth. The gummies also contain about 26% less Vitamin E than what the company claims on the label.
@sugarbearhair / Via Instagram: @sugarbearhair
Arthur Grollman, a professor and director of Stony Brook University School of Medicine's Laboratory for Chemical Biology, told BuzzFeed News that the vitamin's label inaccuracy "reflects the lack of regulations" of the dietary supplement industry, which is not held to the same strict government standards as the pharmaceutical business.
"I would expect complete label accuracy from all dietary supplement manufacturers," said Grollman. "Some of these things are toxic in excess and [consumers] ought to know what they're putting in their mouth. If the label is not accurate, it could be toxic to them."
Labdoor measured 8,497 micrograms of biotin in one serving the gummies, 70% more than claimed on the label; 10.3 micrograms of B12, 72% more than on the label; and 3.5 micrograms of B6, 73% more than the label.
All B vitamins, including biotin, are water soluble, which means the body will naturally excrete any unused nutrients, according to the National Institutes of Health (NIH). That means having an excess of B vitamins and …read more
Read more here: Here's What's Really In The Kardashians' Favorite Hair Vitamins
Category: CSCO, VIP